Case Study: Island Line Extension to Western District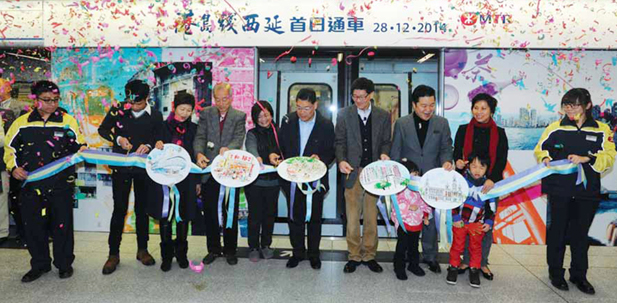 At 6:00am on 28 December 2014, the MTR Island Line Extension to Western District officially began passenger service. More than a thousand commuters crowded the station at Kennedy Town to experience the first ride on the new three-kilometre line. In preparation for the start of service, more than 500 MTR and contractor staff worked through the night changing more than 23,000 signs and information boards across the MTR network. Other digital information and the fare collection software were also updated to incorporate two new stations.
Built as a community railway, the Island Line Extension to Western District was designed to provide convenient access for more than 90 per cent of residents of the Western District, including an integrated all-weather pedestrian network. Preparation for the new line began in 2008 and involved consultations with all sections of the community. Many views and opinions from the Government and members of the public were incorporated, including suggestions on how to minimise disruptions during construction.
Following completion of the project at a cost of HK$18.5 billion by latest estimates, travelling time on Hong Kong Island has been reduced significantly. The Island Line is served by new stations at HKU (The University of Hong Kong) and Kennedy Town, which opened in late 2014, and a third station at Sai Ying Pun, which opened on 29 March 2015. The new stations incorporate innovative environmental management features and artistic design elements, providing our passengers with a vision of how refurbished stations elsewhere in our network could look in the future.
What is a "Community Railway"?
The Island Line Extension to the Western District is an example of a community railway built to meet the needs of people living and working in the communities it serves. Here are some illustrative examples of how we accommodated the specific needs of community members in our approach to implementation of this project:
A convenient pedestrian network connecting uphill and downhill areas in the West Mid-Levels and the area along Queen's Road West has been created by lifts, escalators and walkways in the unpaid area of our stations.
Provisions were made for green minibus boarding and alighting and a recreational area outside Kennedy Town Station.
At Kennedy Town we introduced a passenger lift connecting Sands Street to Rock Hill Street and an escalator on Sands Street to improve pedestrian accessibility.
We restored and enhanced public facilities affected by construction of the project, building a new public swimming pool and restoring a historic building by converting it into a rehabilitation centre.