Corporate Governance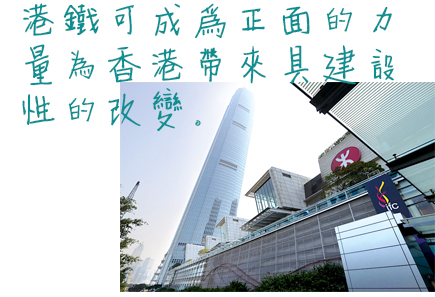 Dr Raymond Ch'ien Kuo-fung has been Chairman of the MTR Corporation since 2003 and a Board member since 1998, making him the longest-serving person on the Board of the Company. The Corporate Responsibility team caught up with Dr Ch'ien at his office in Two IFC, where we asked him for his views on the challenges faced by the Company in 2014.
MTR has long been considered a world-class company by the global transport industry. However, the events of the past year — most of which were related to the growing public expectations of MTR — challenged my perceptions of who we are as an organisation. These included our reporting of the delay in the Express Rail Link project and the ensuing reviews that followed, the dog-on-track incident and our service delays. Many of the criticisms levelled at us were justified and caused me to reflect on what we could have done better.
What have you done to make the Company more accountable from a governance perspective?
We started by further strengthening the Company internally, so as to better understand the risks and complexities of our new railway projects and to provide more timely and relevant reports on their progress. We set up a new committee to do this — the Capital Works Committee — as well as a Risk Committee, and appointed four new Non-Executive and Independent Non-Executive Directors to the Board. These measures are not only helping us meet the high standards of governance that people expect of us, they are also making us more accountable to our stakeholders and more resilient so that we will be better prepared for future challenges. As our operational footprint in and out of Hong Kong has grown rapidly over the past decade, enhanced governance will ensure our rate of growth is sustainable and beneficial to stakeholders.
How successful do you think MTR has been in regaining the public's trust?
I think we are already being seen as more open by the public through initiatives such as Lincoln Leong's monthly sessions with the media and our more proactive way of engaging with our stakeholders. I believe we are much more responsive now and better at providing relevant information.
The way we managed the public transport and property management challenges engendered by the recent public activities on the streets of Hong Kong also went a long way to restore public confidence and demonstrated that we have always been an organisation that is people oriented and delivers through thick and thin. For that, the Company is grateful to its dedicated and spirited staff.
2014 was MTR's 35th anniversary. How has the Company changed over the years?
MTR has been part of the fabric of Hong Kong ever since our first eight-kilometre line went into operation in 1979. That line, and the ones that soon followed, made a huge difference in people's lives. As the network has grown, MTR has played a critical role in bringing communities together and contributing to the growth of Hong Kong. This is still a primary focus of what we do and will continue to drive the development of new communities around our stations.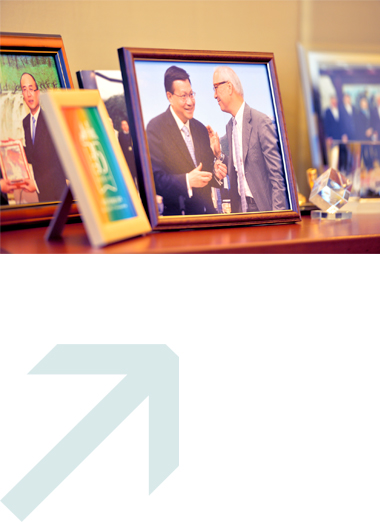 How does corporate responsibility fit in with that mission?
To succeed as a truly sustainable business, we must embed corporate responsibility into everything we do. The reality is that Hong Kong is changing and we must adapt to the changes taking place. While we need to keep the perception that we are an astute organisation with engineering excellence, we also need to show that we care deeply about our customers and the communities we operate.
MTR can be a force for good and an agent of constructive change in Hong Kong. I've taken a personal interest in making this happen — in addition to serving as the Chairman of the Board, I also chair the Corporate Responsibility Committee at the Board level. This is the only committee I chair.
How can MTR continue to succeed in the years ahead?
MTR can still succeed but we must learn from challenges and adapt to new realities. We can do a lot of good for society by identifying areas where MTR can make a difference.
To do that, we need to continue understanding our customers and stakeholders. Although there is a perception that we haven't always been successful in showing our "caring heart", the fact is we do care and we care very deeply for them. We are a world-class company because through the years our stakeholders have expected nothing less from us. I will make sure we continue meeting their expectations as best as we can.