Environment
In Cantonese, there is no equivalent to the English expression "green thumb" or "green fingers".
As she pauses to wipe her brow under a searing mid-day sun, Chan Yin Chun laughs off the suggestion that she might have such a strange-sounding condition. But if anyone at MTR can be said to have an affinity for growing plants and an appreciation for nature, it is certainly she.
Yin Chun is the Gardening Supervisor at Caribbean Coast for MTR, a job she has held for eight years. In her first year there, she planted thousands of flowering shrubs, trees and plants, transforming what had been a drab area of the grounds surrounding the property estate into a green paradise, much to the amazement — and delight — of the residents.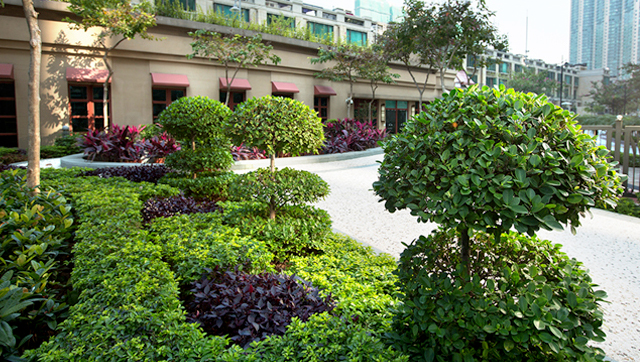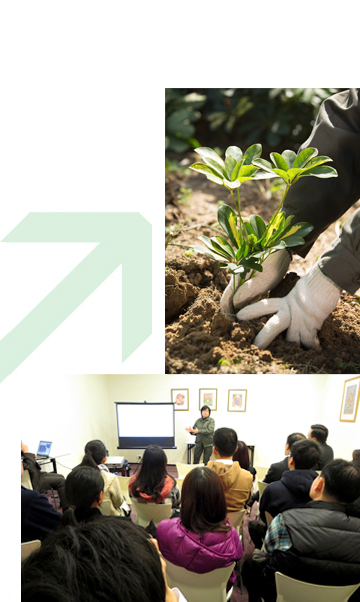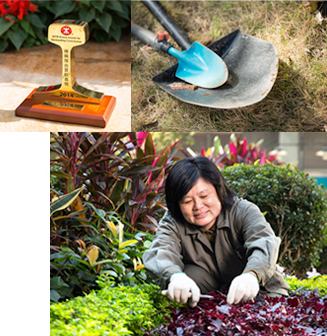 "We get compliments every day, and people sometimes ask us for advice on taking care of their own houseplants," she says. "We even had one man who used to live at South Horizons move his family here just because of the landscaping."
Although she doesn't mention it herself, Yin Chun also received recognition for her achievements from the Company when she won the 2014 Grand Award for Individuals, the highest honour bestowed on staff at MTR. One of the reasons she received the Grand Award was for developing a self-fertilisation method that makes use of recycled flowers and plants, which saves money for the Company and, more importantly, avoids the use of chemical fertilisers. This innovation shows that making better use of our resources and reducing harmful impacts on our environment can be achieved by anyone.
Later that day, Yin Chun will go to another MTR property, Telford Plaza, to deliver a workshop on landscaping. "It's become part of my normal routine. Many other landscapers at MTR are now asking me to share my knowledge."
MTR encourages landscaping around its properties as it creates open, green spaces where people can relax amidst the urban pressures of a city like Hong Kong. It also helps the Company to meet environmental impact certification requirements for buildings.
When asked what she likes about her role at MTR, she thinks for a moment before replying. "It's my dream job," she says. "I love nature, and people really appreciate the beauty of plants and flowers. If they can see how well kept the grounds are, that shows we care about our residents and the quality of life they enjoy."