Sustainable Resource Use
In 2014, we purchased over 1,880 GWh from Hong Kong's two electricity providers for railway and property operation, representing about 4 per cent of Hong Kong's total energy consumption. Heavy rail accounts for the vast majority, or about 75 per cent, of the electricity that we consume, with our Property Division also representing about 22 per cent of our total electricity consumption. This calculation includes all properties that we own and manage, but only takes account of energy use that we control in those properties (i.e. it does not reflect energy consumed by our tenants).
Electricity Consumption (MWh)
| | 2013 | 2014 |
| --- | --- | --- |
| Total | 1,832,919 | 1,881,469 |
| Railway Operations | 1,424,953 | 1,471,301 |
| Heavy Rail | 1,371,918 | 1,417,339 |
| (Share of total) | 75% | 75% |
| Light Rail and Bus | 53,035 | 53,962 |
| (Share of total) | 3% | 3% |
| Properties | 407,966 | 410,168 |
| (Share of total) | 22% | 22% |
Energy Efficiency
Purchased electricity represents our largest non-staff operating cost. Even without taking into account the environmental benefits of consuming less energy, the cost consideration alone constantly provides an important incentive to seek out innovative ways to improve energy efficiency.
We normalise electricity consumption in two ways in order to evaluate our performance on energy efficiency:
Electricity use per revenue car km (as illustrated in the chart)
Electricity use per passenger-kilometre (km) on heavy rail operations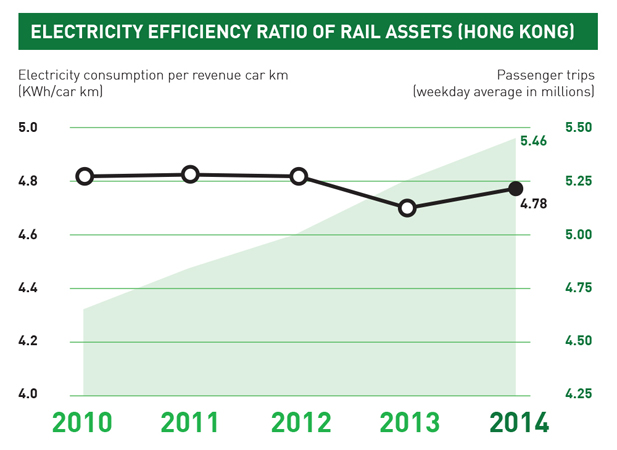 By 2020, our target is to reduce by 21 per cent the amount of electricity consumed per passenger-kilometre in our heavy rail network compared with 2008 levels, the first full year after the merger of the rail operations. In 2014, we achieved a 19.35 per cent reduction of electricity intensity in our heavy rail operations compared with the baseline from 2008.
Trends in Electricity Demand
We anticipate that our demand for energy will continue to increase due to higher patronage, new rail lines and continued growth in other areas of our business.
Trends in Electricity Supply
In Hong Kong, our choice of energy suppliers is restricted to two vertically-integrated companies that are regulated by the Government under a Scheme of Control (SOC) Agreement that is valid until 2018. We anticipate that in the coming years the cost of our electricity will rise on account of tariffs being adjusted to reflect developments in world and regional energy markets, including the impact of policies to reduce air pollutants and mitigate climate change.
During 2014, we participated in a consultation exercise organised by the Environmental Protection Department to consider the future fuel mix of electricity supply in Hong Kong. We emphasised the need for the Government to continue to find an appropriate balance between competing objectives of safety, reliability, affordability and environmental protection.
Information about the regulatory framework governing the supply of electricity in Hong Kong is available from the Environment Bureau.