Fares for Hong Kong Transport Operations
We offer three different classes of fares in our Hong Kong transport operations, namely, Adult, Student and Concessionary. Children below the age of 12, senior citizens 65 years and older, and eligible persons with disability enjoy concessionary fares on all lines. Full-time Hong Kong students between the ages of 12 and 25 are also eligible for concessionary rates.
This chart shows that adjustments to our fares have been in line with long-term consumer price changes and consistently lagged behind wage growth in Hong Kong.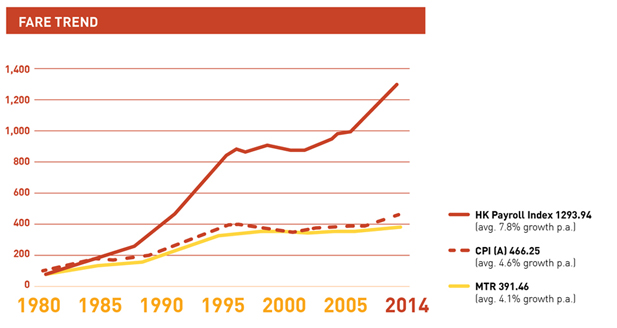 With implementation of the Government's Public Transport Fare Concession Scheme, elderly people and eligible persons with disabilities can travel on MTR Domestic Services with a concessionary fare of HK$2 per trip. The scheme aims to build a caring and inclusive society by encouraging these groups to participate more in community activities.