Safety
It's late in the evening, and as most of us are getting ready for the comforts of our beds, one man's day is just beginning.
He is Chan Kwai Yao, an MTR "rail doctor" who is among the small band of railway track inspectors who labour through the night to help passengers enjoy a safe journey aboard the city's trains.
With MTR for 30 years, he only began working the night shift in 2009. He's still adjusting to the hours that start at 11pm and do not end until 7 the next morning. His route runs a distance of 9 to 10 kilometres — the length of over 30 twelve-car trains — and he must cover it all in just 3 hours. Only his torch lights the way.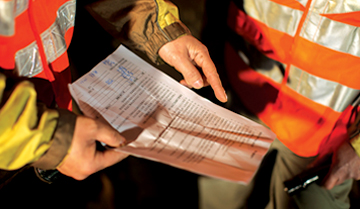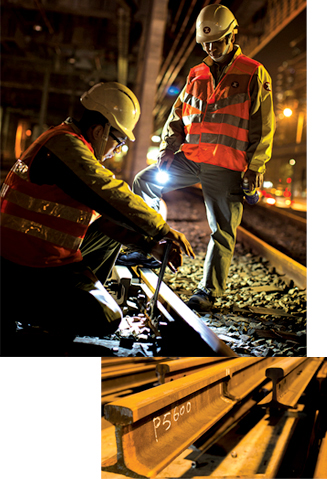 "It's not an easy job and you have to take it seriously," he says. "It takes years of experience to know what to look for. Small stones, loose screws, plant debris and metal particles from passing trains — any of these could cause problems."
If he and his teammate spot a small crack in the rails, they must log it and see whether they can repair it on their own or call in a team to help. Then they need to keep moving on. "Patrolling the tracks is vital to the company," he says. "We are the eyes of MTR and must be alert at all times so we can identify potential problems and fix them as quickly as possible."
Finding debris or cracks is all the more difficult when he and his teammate work during the night, although he still sometimes goes on patrol during daylight hours when there is a typhoon. On those occasions, he'll join a driver onboard a train to monitor the track.
Another duty that Kwai Yao undertakes is passing on what he has learned over the years to his younger colleagues because he wants them to do their job well too. Even simple things, such as how to hold a torch when inspecting the rails. "At first, many of them waved it back and forth," he says. "But that made them dizzy and they couldn't find things as easily."
The horizon begins to glow in the east, and Kwai Yao's shift is nearly done. He goes home to his family, has breakfast and does some household chores before going to bed at 4pm. His wife, son and daughter by now are used to his odd hours and keep down the noise so he can rest.
Later that evening, Kwai Yao rises again to have a meal before setting off for another shift. He takes pride in the work he does, despite the challenges.
"My personal philosophy is that if you take up a job it is your responsibility to do it well," says Kwai Yao. "That is all I know."