CORPORATE GOVERNANCE
We believe good corporate governance is the foundation of building trust in an organisation. Members of our Board and Executive Committee are strongly committed to the collective responsibility of ensuring that the Company is well-managed in the interests of all its stakeholders. Our Board Members oversee the strategic vision and direction while Executive Committee Members formulate and implement the necessary policies and systems. This firm belief drives our continuous effort to seek and adopt best practices that enable good corporate governance.
We endeavor to ensure that Board members have an appropriate balance of skills, experience and diversity of perspectives, which is outlined in our Board Diversity Policy. This diversity enhances effective execution of our business strategy.
BOARD DIVERSITY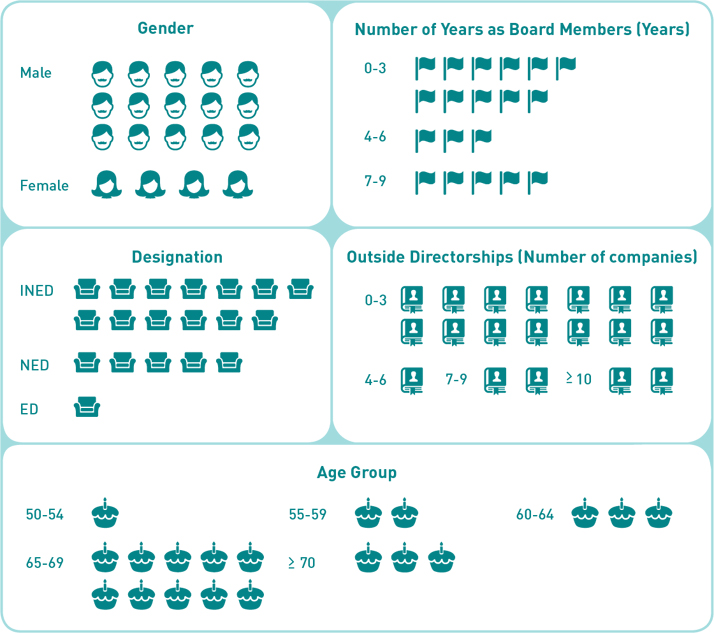 IN CONTEXT
The Company continues to grow outside of Hong Kong, with an increasing number of subsidiaries and associates incorporated locally, in the Mainland of China and overseas. To ensure good corporate governance and management of financial and other risks, the Company exercises certain control and oversight over its subsidiaries and associates, and requires them to adopt appropriate management practices and policies relevant to the local context.
We are committed to promoting best practices in all areas where we have substantive control or influence. Referencing the practices in Hong Kong, we have developed a set of management directives relating to internal controls, consultation and reporting, and mandate our wholly owned and majority-owned subsidiaries to adopt them. We also require subsidiaries and key associates to establish the Enterprise Risk Management ("ERM") system as an integral element of the corporate governance framework. Measures are taken to identify, evaluate and manage significant risks arising from recurrent and growth businesses and from the constantly changing business environment, which cover a range of categories from financial and business environments, safety and health, security, service and business performance, environment, reputation as well as political issues. Risks are captured in risk registers for regular review and monitoring.
We conduct thorough assurance and regular audits, including a safety assurance assessment and enterprise risk management review, before the start of operations and following any substantive change in operational or business activity.
Corporate responsibility is one of the principles that guides our corporate behaviour and supports the delivery of our corporate strategy. Grounded in our Vision, Mission and Values (VMV) and informed by our established Enterprise Risk Management and Stakeholder Engagement processes, it is our aim to grow sustainably as a Company while contributing to the development of our communities.