FINANCIAL AND
ECONOMIC PERFORMANCE
It is crucial that we have sufficient financial capability to fund the investments, maintenance and upgrades that take place across our businesses today and into the future. Fares are one of our major sustainable and stable revenue sources. The Fare Adjustment Mechanism (FAM) was agreed with the government at the time of our merger with KCRC in 2007. It is designed to enable fair, objective and transparent fare adjustments.
Based on a mutual agreement reached in April 2016 with the Government, we advanced the 2017/18 review and the result was released in March 2017. Building on the foundation of the FAM formula, which remains unchanged, we will be implementing new arrangements which will benefit all passengers, while ensuring the financial sustainability of the Corporation to support safe, reliable and efficient railway services. We have also developed an attractive package that will benefit all passengers on all journeys.
We use a number of proven financing models such as the Rail plus Property model, Public-Private Partnerships, and service concessions and cash grants to support the delivery of high quality railway services over the long term. For the first time, in November 2016, we issued a green bond to fund projects that enable us to continue to provide green transport and property services.
>HKD2.5BN
ONGOING CONCESSIONS AND PROMOTIONS PROVIDED IN 2016.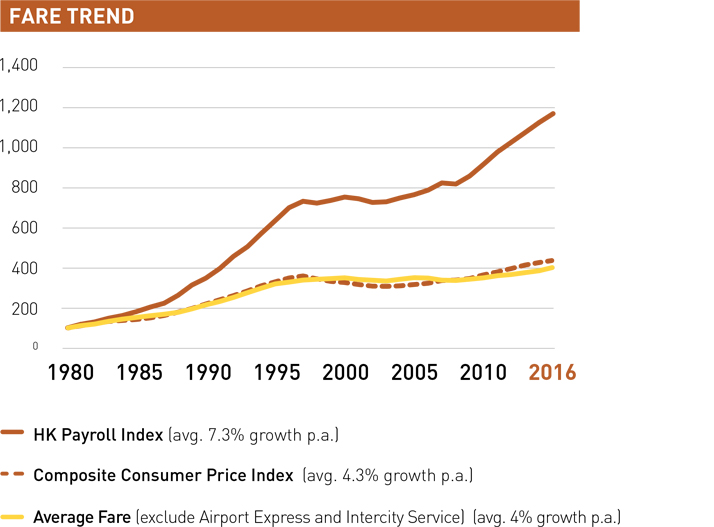 IN CONTEXT
Our contribution to Hong Kong is beyond the profit we generate for our shareholders. To illustrate, we have prepared a value added and distributed statement this year. Revenue is the economic value created from the transport, property and other services we provide to our customers; this is then distributed to our stakeholders – suppliers, employees, lenders, shareholders, government and the community at large. The retained profit represents the reinvestment we made to maintain and upgrade our current assets, as well as the capacity to fund new projects.
Value Added and Distributed Statement in 2016 (HK$ million)
Notes:
Before taking into account staff costs of HK$26 million.
Excludes staff costs capitalised for asset creation of HK$1,385 million.
For simplicity reason, operating costs include interest income and share of profit or loss of associates, netted with profit attributable to other non-controlling interests.
Excludes interest expenses capitalised for asset creation of HK$632 million.
Represents current income tax but excludes deferred tax for the year.
Represents ordinary dividends payout during the year.
Includes ordinary dividends paid to the Financial Secretary Incorporated of the HKSAR Government of HK$4,701 million, but excludes the payment of the first tranche of special dividend under the XRL Agreement of HK$12.9 billion.
Includes donations, sponsorships and other community engagement contributions, but excludes ongoing fare concessions and promotions of HK$2,536 million and in-kind donations of HK$ 22 million.
Economic value retained for reinvestment to generate future economic values. This represents underlying business profit attributable to shareholders of the Company (before depreciation, amortisation and deferred tax) for the year retained, after the amount distributed to our stakeholders, but before payment of the first tranche of special dividend under the XRL Agreement of HK$12.9 billion.