SAFETY
Safety is our first priority. We are proud to provide our customers with a safe and reliable public transportation option in every city where we operate. With decades of continuous attention by management, our uncompromising Safety-First culture—encompassing care for customers, staff, contractors and anyone else who legitimately enters our facilities — is deeply ingrained in our corporate DNA.
We are deeply saddened to report two fatalities in our railway operations and one in our construction activities in Hong Kong this year. We will continue our efforts to raise safety awareness amongst our stakeholders, and to ensure that we learn from these events to prevent a reoccurrence.
In 2016, efforts to ensure continuous safety improvements saw a 9.1% reduction in reportable incidents on the Hong Kong heavy rail network compared with 2015. We have also seen a reduction of elderly injury rate. As the number of elderly customers continues to grow, we are organising targeted safety talks, visits and escalator safety campaigns to enhance safety awareness.
0
1
STAFF FATALITY
CONTRACTOR
FATALITY
PASSENGER FATALITIES
| | 2015 | 2016 |
| --- | --- | --- |
| Heavy Rail | 1 | 0 |
| Light Rail | 1 | 1 |
| Bus | 0 | 1 |
PASSENGER INJURIES REQUIRING HOSPITALISATION
(per 100 million passenger journeys)
| | 2015 | 2016 |
| --- | --- | --- |
| Heavy Rail | 7.91 | 8.39 |
| Light Rail | 14.76 | 14.55 |
| Bus | 0.00 | 6.29 |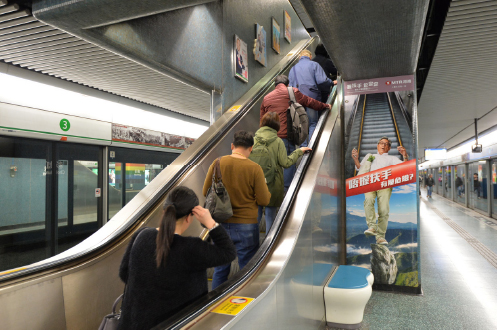 ESCALATOR SAFETY CAMPAIGN
With almost 1,000 escalators operating in our system, escalator accidents are one of the most common safety incidents. We continued to raise public awareness of escalator safety through the Escalator Safety Campaign.
-11.6%
NO OF REPORTABLE EVENTS INVOLVING
ESCALATORS ON THE HONG KONG HEAVY
RAIL NETWORK COMPARED WITH 2015
IN CONTEXT
Providing customers with a safe and reliable service is the bedrock of our operations. Our robust risk management system guides our preparation for emergencies while we continue to enhance our safety management system, strengthen audit and system assurance, improve our standards and procedures, as well as engage our stakeholders to raise their safety awareness.
To help ensure that the Corporation will respond to and recover from emergencies and crises in an organised and highly effective manner, including timely communication with principal stakeholders such as Government departments, we established a mechanism in 1995 to activate the formation of the Crisis Management Team in the event of an emergency. The Crisis Management Team comprises relevant Members of the Executive Directorate and Executive Managers, and its operation is governed by a Crisis Management Plan which, among other things, sets out the duties of respective members. The Crisis Management Plan is aligned with world-class standards and kept up-to-date through regular review. The operation of the Crisis Management Team is aided by an information system to track the latest crisis situation, issues and strategic actions, and to disseminate crisis related information. The Team conducts regular exercises to validate the crisis management organisation and arrangements and to provide practices for members.
Our Safety-First culture was well demonstrated by our response to an arson incident that happened on one of our trains on 10 February 2017. We are deeply concerned by the incident, and have set up an Executive Review Panel to thoroughly examine incident handling and safety procedures and to identify areas for improvement to further enhance the Corporation's response in emergency situations.