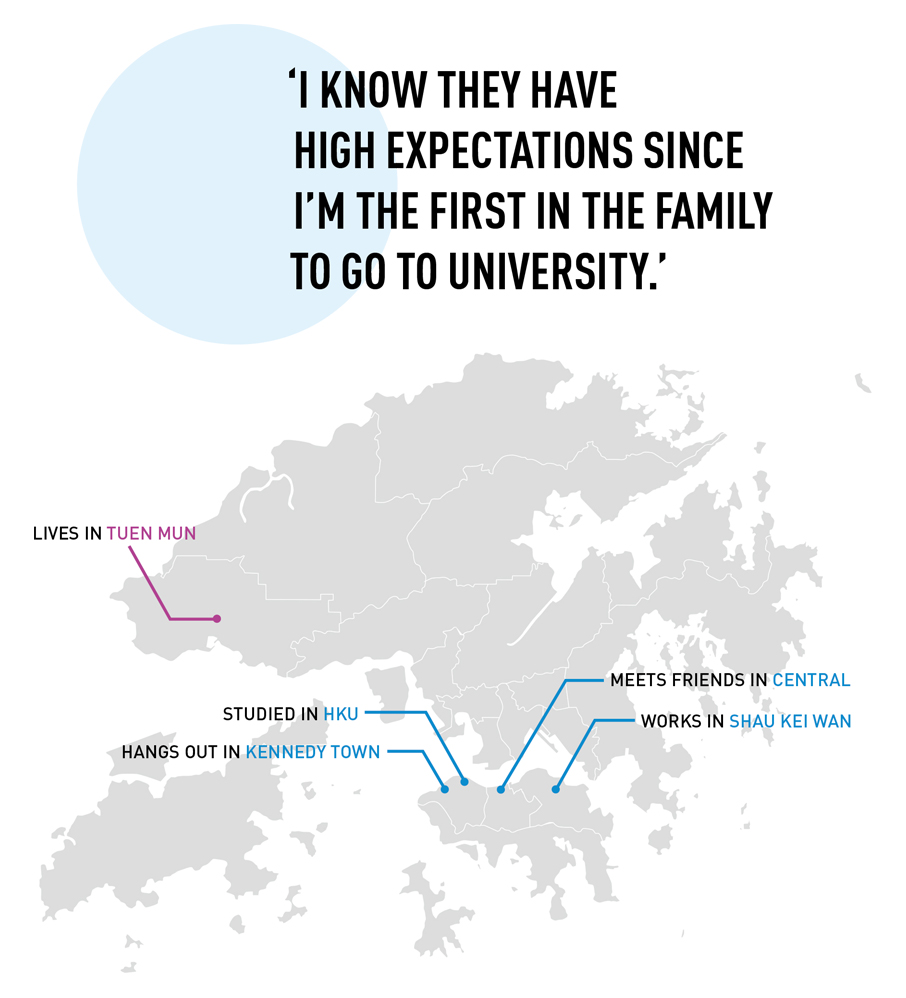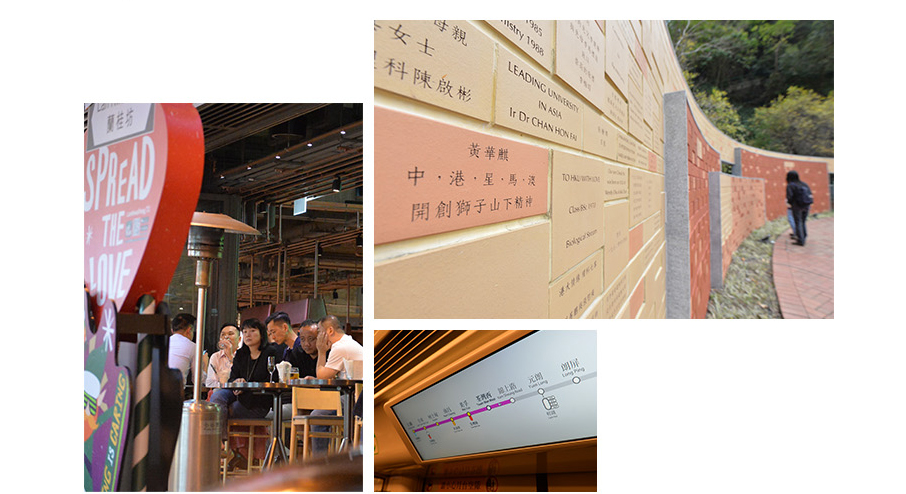 Walking down the Sun Yat-sen Steps, Isaac sits on the bench next to the Knowles Building at HKU. He used to rush past this spot every day. Isaac has since graduated and is now working as a surveyor.
Isaac was born into a fisherman family, and grew up in Tuen Mun. "My mother grew up on a fishing boat. As the eldest child, she quit school and worked to support the education of her four siblings. When I told my family that I was accepted into HKU, they were over the moon! My dad even hosted a dinner to celebrate!" he said. "Even though my family doesn't put pressure on me, I know they have high expectations since I'm the first in the family to go to university. I have a good job now and I hope I can take care of them."
University life broadened Isaac's horizons and social circle. "I once thought going to university is similar to secondary school, except the campus was further away. I never thought that university life would be so free! My friends and I often met for dinner in Soho, or we had beers by the sea in Kennedy Town. One of the most memorable moments was when we played poker in the Surveying Studio, we were afraid that our professors would see us!" Isaac made life-long friendships, "I'm still in contact with many of them; we support each other even during our working life. I believe that we'll be friends for life!"
Independence was an important lesson for Isaac. "I had more responsibilities once I became a university student. Before the West Island Line opened, I once had a morning appointment with my professor, but I woke up late. I tried to take a taxi to the city, but couldn't catch one. When I finally arrived, my appointment time had passed." He laughed, "Now my office is in Shau Kei Wan. The journey is even longer and I take the MTR regularly. It's easier to estimate the travelling time. I can't be late for work!"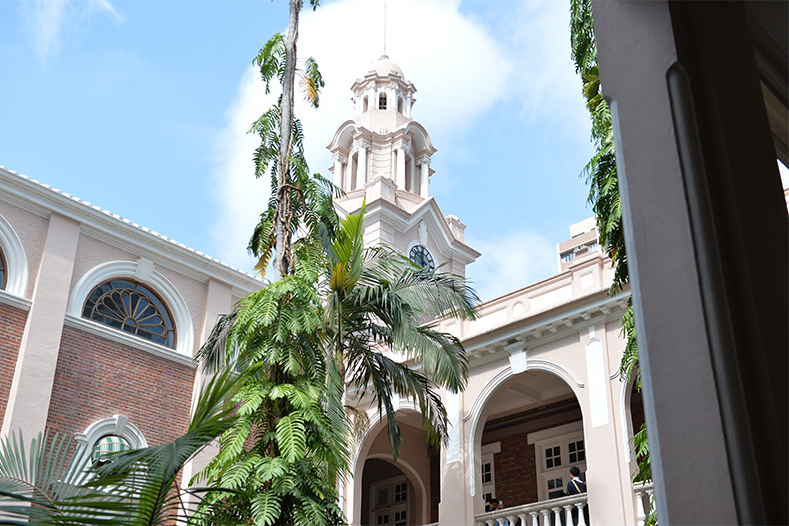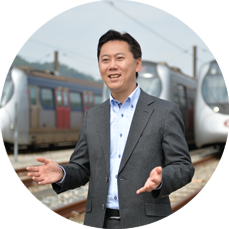 ANGUS LEE
HEAD OF INTELLIGENT PORTFOLIO OFFICE
Angus leads the team that reviews new rail projects and provides advice on long-term asset planning.
I studied at HKU too and I lived quite far away, so I know how long the commute was for Isaac. The Island Line extension to Western District was a new section, but Island line itself is already 31 years old, so maintaining the system is important to make sure that it performs consistently. We work hard to make sure that the trains run frequently and that they're also reliable. During peak hours, the train comes every two minutes on some lines. So Isaac doesn't have to worry about missing his bus or finding a taxi, nor the rush hour traffic.
Our railways are maturing and many of our assets need to be upgraded and replaced as we expand our network to meet increasing demand from Hong Kong's growing population. We use these opportunities to assess new technologies and deploy the right ones to improve service performance and customer experience.
During asset replacement and upgrades, the quality of the goods and services that our suppliers provide impact what we deliver to our customers. So, we collaborate closely with them to ensure they meet our design and manufacturing standards. For example, when purchasing our new trains, we set up a joint project office at the manufacturing base with MTR staff stationed there. This helped the manufacturer meet our strict specifications and achieve our performance expectations. Our aim is to improve performance and reduce the replacement, maintenance, and operational costs of our assets over the long run. We also have a clear overarching goal that guides and empowers our experts to deliver our shared targets.
A railway is built to stand the test of time. Every decision that we make is carefully considered. We recently reviewed our design standards to outline a prudent approach to adopting technology. While we observe trends, we require that any technology we use is dependable, available on the market, and fit for purpose. We don't aim to use the most eye-catching, or the most expensive pieces, but strive to be practical in our choices. Our holistic approach balances the initial capital investments, and long term maintenance and operational costs, against environmental considerations such as future energy use and the needs of society during the whole lifecycle. Ultimately, we want to make the railway a sustainable business because our savings can be passed on to the passengers.