SUPPLY CHAIN
We are in a position to build upon a strong foundation of working with stakeholders in our supply chain to promote quality, safety, reliability, business ethics and a commitment to being a responsible and sustainable business.
Our transport operations continue to be the largest segment of the three spending categories. This year we have spent more than HK $8 billion on maintaining, replacing and upgrading our existing network. The quality of the service we provide, and of the infrastructure that we build, are dependent on the reliability and quality of products and services delivered by our suppliers. Risks in our supply chain, similar to our other enterprise risks, are therefore subject to regular assessment through the Enterprise Risk Management System. We also identify the relevant sustainability risks for each supplier category, and the strategic focus areas for supplier engagement by division and category of spending.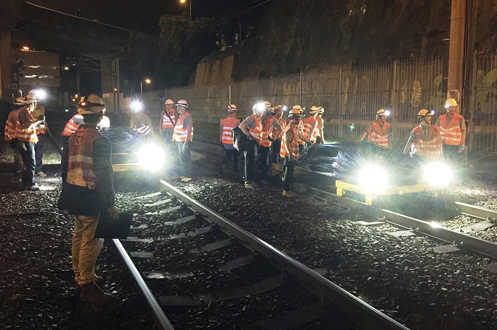 NEW SIGNALLING SYSTEM
We embarked on a major signalling replacement project to further increase our train frequency and the network's overall capacity. We are conducting tests on running lines during the short overnight non-service hours period to reduce disruptions to our customer journeys.
47.7%
of fare revenue-equivalent invested in railway maintenance, replacement and upgrades in 2016, which amounted to more than HKD8 billion
IN CONTEXT
The Sustainable Procurement Task Force of the Procurement and Contracts Department was established in 2012. In 2016, we reviewed and strengthened the governance structure of the Taskforce. Reporting to the Engineering Director, it comprises colleagues who examine the implementation of sustainable procurement initiatives across the Company.
One of the focus areas of the taskforce is to survey our suppliers periodically to collect information about the status of their policies, initiatives and monitoring systems relating to sustainability. Findings from the questionnaire help us to understand how our suppliers are aligning with the Supplier Code of Practice and the maturity of their sustainability practices.
In our most recent survey in 2014, we observed an overall increase in the proportion of suppliers indicating that they have corporate responsibility policies, initiatives and monitoring systems in place – from 27.6% to 46%. In our next survey, scheduled for mid-2017, we will also seek to understand their priority sustainability areas, comparing these results with our own assessment. This will guide areas for improvement and collaboration, as well as note the feasibility of introducing enhanced sustainability requirements in the future.