-
Graduate Development Programmes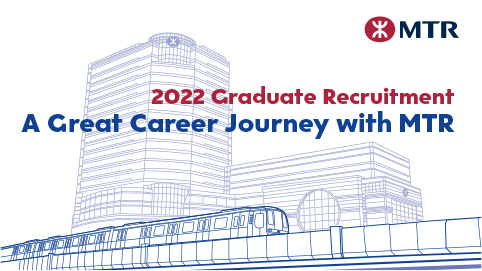 Frequently asked questions
How many graduates does MTR recruit each year? The number of intake each year varies according to our business needs and the candidates' fit to our requirements.

Can I apply for more than one programme? If you are interested in more than one programme, please indicate your order of preference in your application. Your application will be processed according to the priority of preference you have indicated.

What is the difference between graduate trainee programme and other professional expertise programmes? If you have a particular interest in pursuing a general management path in your career development and are prepared to be assigned to work in different business functions and locations, with high mobility to work in the Mainland of China / overseas, you may consider applying Graduate Trainee (GT) programme.

If you have strong interest in a particular business function, would like to focus more on your professional development, and are prepared to work in any departments of the respective function to gain in-depth functional knowledge and experience, you may consider applying the functional programmes under the professional expertise stream.
Do I need to hold a relevant degree when I apply for the graduate trainee or other professional expertise programmes? For graduate trainee, corporate affairs associate, inventory & supply chain management associate, human resources associate, and railway officer trainee programmes, we have no specific requirement on the relevance of the degree.

For graduate engineer programme, as it is an HKIE accredited Scheme 'A' training programme leading to the gaining of Chartership, you should be a graduate in degree accredited by HKIE in disciplines of Civil / Building Services / Electrical / Electronic Engineering and Control Automation & Instrumentation.



Civil
Building Services
Electrical
Electronic
Control Automation & Instrumentation

For graduate quantity surveyor programme, you should be a graduate in degree accredited by HKIS Quantity Surveying Division.

For property associate programme, you should be a graduate in Business Administration / Housing Management / Hotel Management, or with a technical background in Surveying / Town Planning / Structural Engineering / E&M Engineering / Building Services Engineering / Civil Engineering / Architectural Studies.

For finance associate programme, you should be a graduate in Accounting, Economics, Finance or Business Administration.

For information technology associate programme, you should be a graduate in Information Technology / Computer Science / Information Systems / Software Engineering / Data Science, or a related discipline.

If I am currently studying overseas, can I still apply? Yes, you may apply but please take note of the recruitment schedule of the programme.

Alternate arrangement like online interview / assessment may be arranged for candidates who are studying abroad and unable to attend interview / assessment in person.


Can I submit my application through email or other channels? To ensue fairness and consistency in screening and selection, all applications must be submitted via the online application system re-opened on 3 December 2021 (09:00 Hong Kong time) and closed on 16 December 2021 (23:59 Hong Kong time). Application by other methods will not be considered.

How long will it take to receive a response after I submit my application? We consider your application carefully in light of your stated preference and the job requirements. While assessment details may vary for different programmes, shortlisted candidates may normally be invited to complete online assessment / interview by email in 4-8 weeks. Please check your inbox periodically for assessment / interview invitation with subject regarding "MTR Graduate Recruitment" and review your email account settings to ensure these email messages will not be blocked automatically.

If you have any questions regarding the arrangement, please contact us via recruit@mtr.com.hk



When do the graduate development programmes commence? The programmes usually commence in July. Some programmes may take on candidates earlier depending on business needs and availability of candidates. You will be notified of the details once we have offered you a place.

Do I have a choice in choosing our rotations / attachments? Customised development will be provided taking into consideration programme requirements, business needs, individual aspirations and development needs.
What support will I receive in the programme? You will have rotations / attachments to different business functions / departments of the respective functions to gain in-depth knowledge and hands-on experience. You will receive on-the-job development and support through buddy, mentor and a network of professionals / subject matter experts.

An integrated learning and development programme will be provided for trainees, including Corporate Familiarisation programme, competency-based management and leadership training (e.g. leadership/business management, task/project management, people management and personal effectiveness), Outward Bound training, study trip, action learning projects, community projects, corporate events, etc.