-
Network Improvements
OCC Migration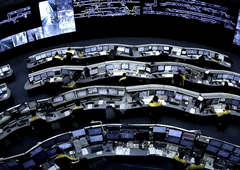 Super Operation Control Center
The Corporation had successfully migrated the Operations Control Centres (OCC) of East Rail Line & Ma On Shan Line and West Rail Line from Fo Tan and Kam Tin to Tsing Yi OCC, which is the OCC of Airport Express, Tung Chung Line, Disneyland Resort Line, Tsuen Wan Line, Island Line, Kwun Tong Line and Tseung Kwan O Line, to house a ¡§Super OCC¡¨ under one roof. The move to centralise the OCCs of separate rail lines was planned as a part of the rail merger in 2007.
To prepare it for its new role, the Tsing Yi OCC has undergone a $117 million facelift to upgrade facilities and equipment, including the installation of larger mimic displays system and the creation of more space to accommodate a larger team of controllers.
Fo Tan OCC and Kam Tin OCC were relocated successfully in March and June 2013 respectively.
The new Super OCC is designed with our network expansion in mind. It will also house the controls for four of the five new rail lines being constructed which include West Island Line, South Island Line (East), Kwun Tong Line Extension and Shatin to Central Link.
The operations of the Guangzhou-Shenzhen-Hong Kong Express Rail (Hong Kong Section) will be controlled in a separate control centre that controls the whole section of the Guangzhou-Shenzhen-Hong Kong Express Rail.